Programs
Art School
This program aims to support the health growth
of children at local child shelters.
The 1% Art School is a community participatory art program financed by the 1% Sharing program where POSCO Group employees donate 1% of their pay to support children to realize their potential through culture and art. Instead of passive culture and art education where children just play instruments or memorize theories, this program pursues art education where children ask questions, take part, and think actively. In 1% Art School, literature, music, art, and dancing are all just a medium. There, children learn how to think creative, talk with their friends to reach an agreement, and express their behaviors.
While participating in this program every week, totaling 20 sessions, they can think about problems confronting their town and community, and try to find a solution through art. The 1% Art School is always with these children without missing even a chance of 1% to ensure they can grow as a healthy future leader.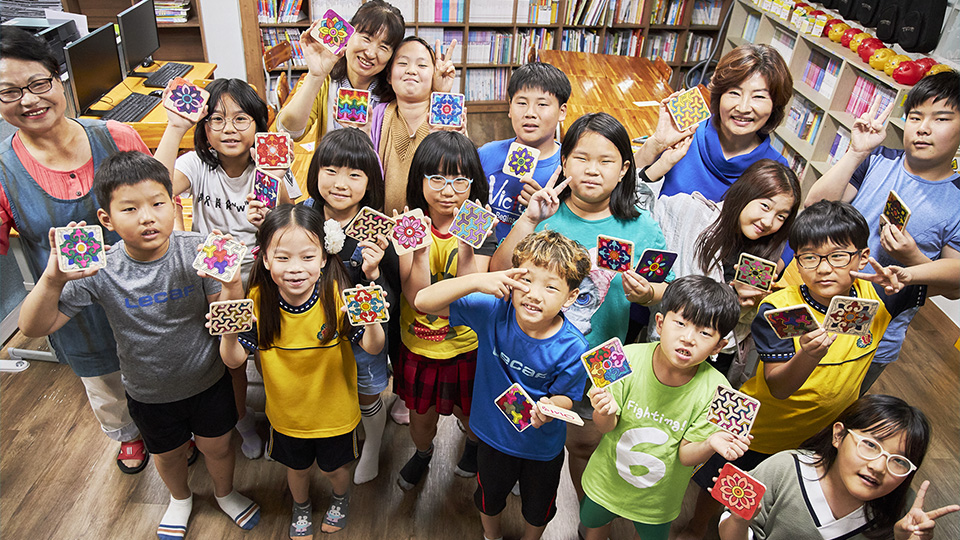 Objectives

To support the healthy growth of children at local child shelters and develop capabilities of art teachers in Pohang and Gwangyang

Program

On-site culture and art education covering literature, music, fine art, film, and dance (weekly, 20 sessions or more)

Process

Collect needs
from each center

Audition
and select
art teacher

Train teachers
and hold
workshop

Art School
education

Performance
review meeting

Support

All program costs, including materials cost, presentation cost, lecturing cost, and workshop cost
Programs
Science Beyond Imagination
The Science Beyond Imagination Project is aimed to support young students to develop creativity to cultivate people of talent
Unlike schools in the capital area, schools in some regions have difficulties in motivating students in science. So we visit those schools and provide experiential special lectures to help students develop creativity. In 2019, we planned and ran a science class program for 21 classes at six middle schools near the steel mills in Pohang and Gwangyang with the goal of fostering future experts in materials science.
Selected among students who are interested in science, participants are given a special experience where they think about industries and their future career.

Process

Plan special
lectures

Collect
schools

Recruit
teachers

Commence
education

Introduce
education aids
Experience
Tasks
Career exploration

Operate
education

Gallery

Advanced Technology & Steelworks
Steelworks Adventure

Making Class
Transformation: Scrap Collector!

Board Game
Mission: Reinvent Steel!
Program
Do Dream
We support youths leaving their child
shelter to stand on their own feet
Do Dream is a career support program aimed to help young students who are leaving their child shelter to stand on their own feet. From 2019, Do Dream has provided tailored support to each student for any profession, including hairdresser, cook, nurse, and public servant. Of those aged between 18 and 29 who have left their child shelter, anyone who has a dream is eligible for this program, which provides a full package of career support, ranging from living expense, which is the most urgent to many of them, to career support allowance, and even the reward for getting a job.
Do Dream supports youths who leave their child shelter and try to stand on their feet in our society to help them find a better future.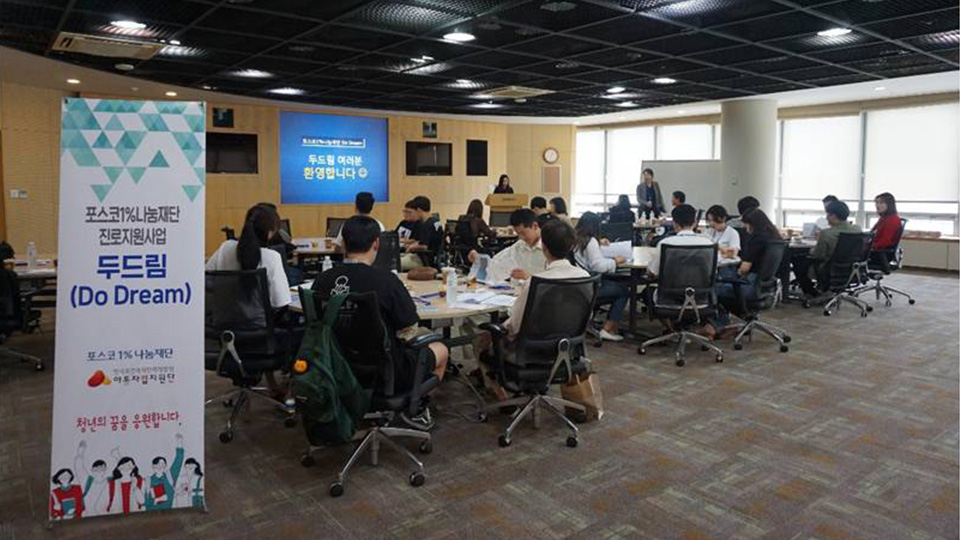 Objectives

To support youths leaving their child shelter

Program

Career support consulting, Do Dream camp, etc.

Process

Advertise for
new students

Interview
/ selection

Career design
/ mentoring

Provides
edu programs

Completion
ceremony

Support

A full package covering living expense, career support allowance, job seeker allowance, and reward for getting a job
Program
Children Support
The POSCO 1% Foundation supports the right of every child in the world to be educated.
Even at this moment, there are still 64 million children in the world who cannot even attend an elementary school. There is this vicious circle where children who are deprived of their opportunity to even receive basic education due to unavoidable reasons, such as poverty, sexual abuse, drug, child labor, human trafficking, war, and refugee, also lose their future opportunities. To ensure every child in the world can receive basic education, the POSCO 1% Foundation has been working with UNESCO for the Out-of-school Children Support Program since 2018. Through this education program, we want to bring new opportunity and a better world to neglected children in the boarder areas of Thailand and in Indonesian islands.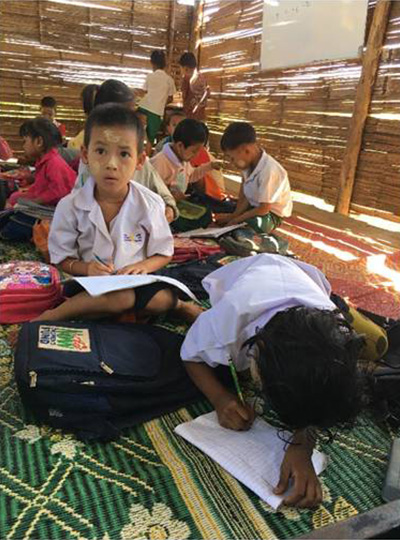 Objectives

To support the right of every child in the world to receive good education

Program

Alternative school (community center), teacher training, support for children with Learning Coin Project, etc.

Process

Select students
and provide data
coupon and PC

Mobile
education

Grant points
based on
learning results

Redeem points for cash

Art School
education

Monitoring

*Process of Learning Coin Project

Support

School remodeling, education aids, mobile education apps, supply of tablet PC, etc.
Program
Dream School
We offer excellent educational opportunities and mentoring to the future generations.
The Dream School project aims to provide outstanding educational opportunities and mentoring to adolescents in Pohang and Gwangyang where they lack educational infrastructure compared to the metropolitan area. What started out as Dream Camp in 2019, the project was offered in classrooms but was later converted into an online program in consideration of safety concerns during COVID-19. Thus, the program was renamed Dream School and started anew in 2021.
Dream School selects 50 students from the nation's most prestigious universities as mentors through rigorous screening. During the nine-month program, they provide mentoring to students in about 60-minute sessions twice a week.
Objectives

To improve students' learning ability and develop talent through one-on-one mentoring customized to each student
Campus tours: Students get an opportunity to tour universities of mentors, receive educational counseling and mentoring

Program

Support for essential school subjects: One-on-one online mentoring (3,500 min per student)
Financial aid for arts and sports classes (for lessons, textbooks, and classes)

Process

Candidate
screening

Orientation

Mentoring

Awards ceremony for
outstanding mentors
and mentees

Gallery

Campus tours
Major orientations

Campus tours
Group photo