Programs
Wings of Hope
We give wings to people with disabilities who pursue their dream.
There are many people with disabilities who never stop challenging and dreaming even in the reality where it is still not easy to live with congenital or unexpected disabilities. They are an athlete, aspiring public servant, mother of two children, and lecturer who devotes herself in improving public awareness of the disabled. For these disabled people striving to realize their dream in their respective conditions, we provide them with tailored assist devices, which are like part of their body, to support their fresh start in society.
We support their successful career with these practical aids, dreaming of a world where everyone's dream can come true.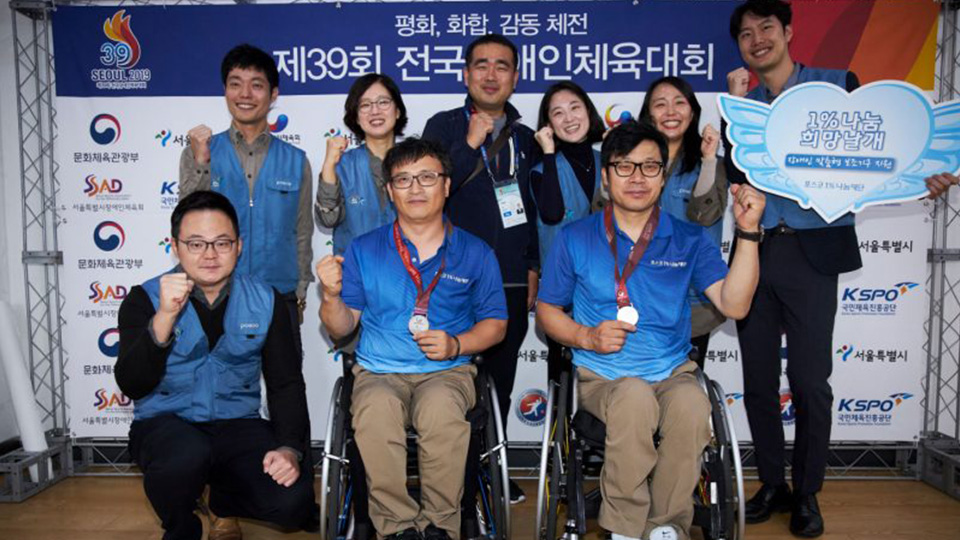 Objectives

To improve convenience of the disabled in their everyday life by providing assist devices

Program

Fitting, consulting, provision, and follow-up management of assist devices for the disabled

Process

Ad for the
program

Receive
applications

Interview and
therapist session

Select
experts

Fabricate
assist devices

Deliver
assist devices

Support

Fabricate and provide tailored assist devices, such as prosthetic hand, prosthetic leg,
laptop computer for the visually impaired, and motored/manual wheelchairs
Programs
Space of Hope
We instill hope into spaces used by the disabled
There are many residential and service facilities for the disabled in Korea, but statutory standards for these spaces are only about size and include nothing about convenience of use or space welfare. We design and present spaces customized for each type of disability from the perspective of not the non-disabled but the disabled. We dream of a world where we can thrive together through convenient and reliable spaces for both users and social workers.
We support a better future of the disabled who dream of a new dream through better experience in a better space.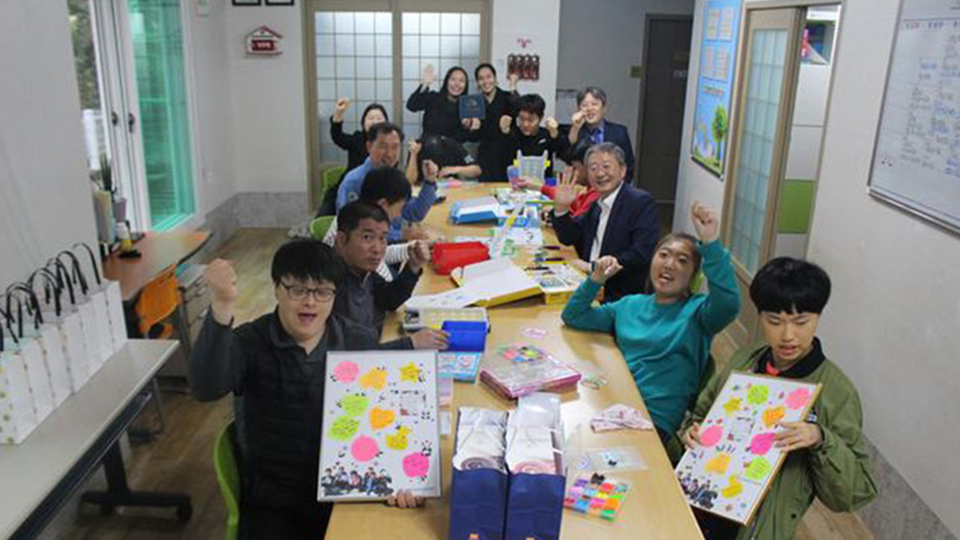 Objectives

To realize space welfare through universal space design for the disabled

Program

Consulting on space welfare, space remodeling, etc.

Process

Ad for space
remodeling
program

Receive
applications

Site
inspection

Select
experts

On-site consulting
by experts

Remodeling

Support

Space consulting, universal space remodeling, etc.
Programs
Advanced Prosthetics
We give hope to patriots, veterans, and incumbent firefighters covered by employment injury benefits
We provide state-of-the-art prosthetic devices to patriots and veterans who are injured during their time of service to the ROK to help them overcome daily inconveniences and engage in different activities. The program is available not only for patriots and veterans, but also incumbent soldiers and firefighters who are injured at the fire ground or have hearing loss due to long-term exposure to siren noises
The Advanced Prosthetics Program is making the lives of patriots and veterans much more convenient and empowering them to even take part in sports events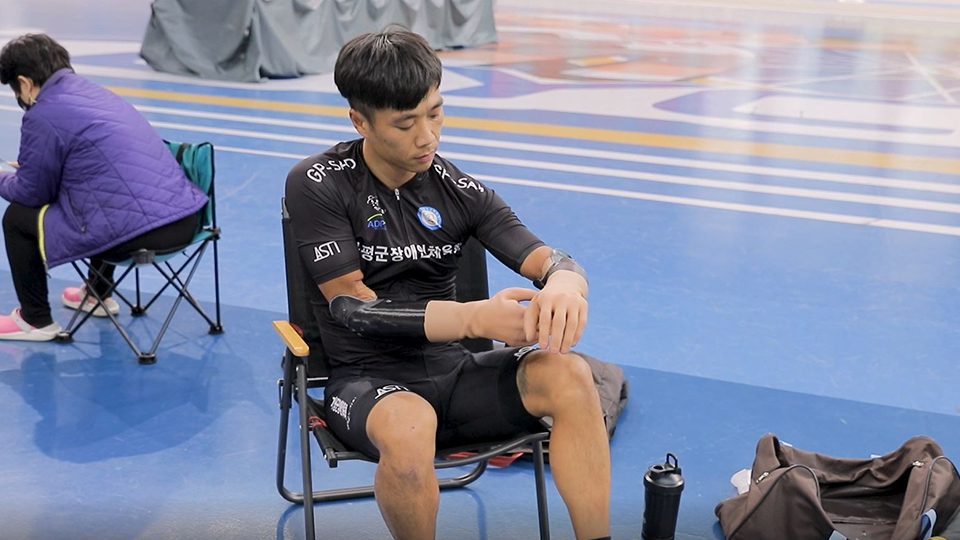 Objectives

To add convenience in daily routine and improve the quality of life for patriots, veterans, and firefighters covered by employment injury benefits

Program

Identification of people subject to the Advanced Prosthetics Program, provision of prosthetic devices, follow-up management, etc

Process

Announcement of
parameters

Application
collection

On-site
interview

Expert
screening

Customization of
advanced prosthetic
devices

Delivery of
the devices

Support

Provision of advanced prosthetic devices, including prosthetic feet and hands, state-of-the-art wheel chairs, vision and hearing aids.
Programs
Digital Academy
The academy supports people with disabilities by fostering digital talent and helping them find jobs in tech companies
The Digital Academy for People with Disabilities selects job seekers to be enrolled in coding programs. They provide financial aids by selecting new students and operating the programs, while the Korea Software Industry Association (KSIA) conducts a survey on workforce demand from over 10,000 member companies in advance and matches them with academy graduates to ensure everyone gets hired
They foster talent through programs that consist of the Advanced Coding and Project Capacity course (16 weeks) offered at Guro Digital Center, KSIA, and the Corporate-specific Training course (4 weeks), and Employment Linkage course (3 weeks)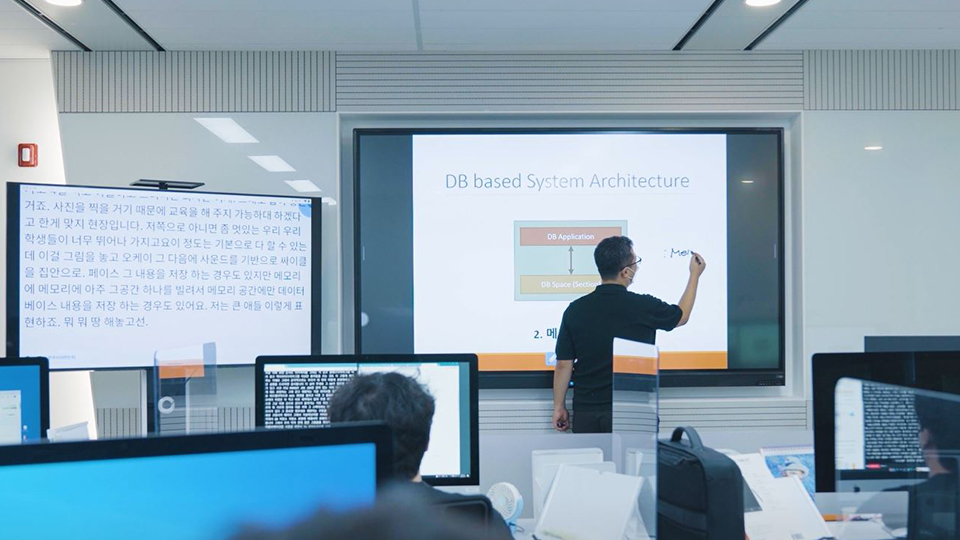 Objectives

To nurture digital talent and meet social demands for employment of people with disabilities

Program

Students with disabilities from across the country seeking jobs learn coding and find jobs with affiliated companies

Process

Talent
search

Application
collection

Document screening
and interview

Announce
the decision

Run
the academy

Introduction of the
employee to tech
companies

Support

Education expenses, textbooks, lunch, training allowance, housing costs for remote applicants, the certificate of completion, connecting graduates to job opportunities at tech companies
Programs
VR Career Training
Motivating people with disabilities to push the limits of learning and empowering them to acquire necessary skills through repeated VR simulation training
As a part of the efforts to practice the philosophy of corporate citizenship amid growing interest in educating people with developmental disabilities, the courses were developed to overcome the time and space constraints, mitigate safety risks, and benefit as many students as possible through the VR systems, which are 20% more effective than the traditional method of learning
To that end, we set up the VR Career Training Centers in welfare facilities for people with disabilities in Pohang and Gwangyang, and special schools (Hetsal, Myeongdo), while enhancing learning effects through repeated VR simulation training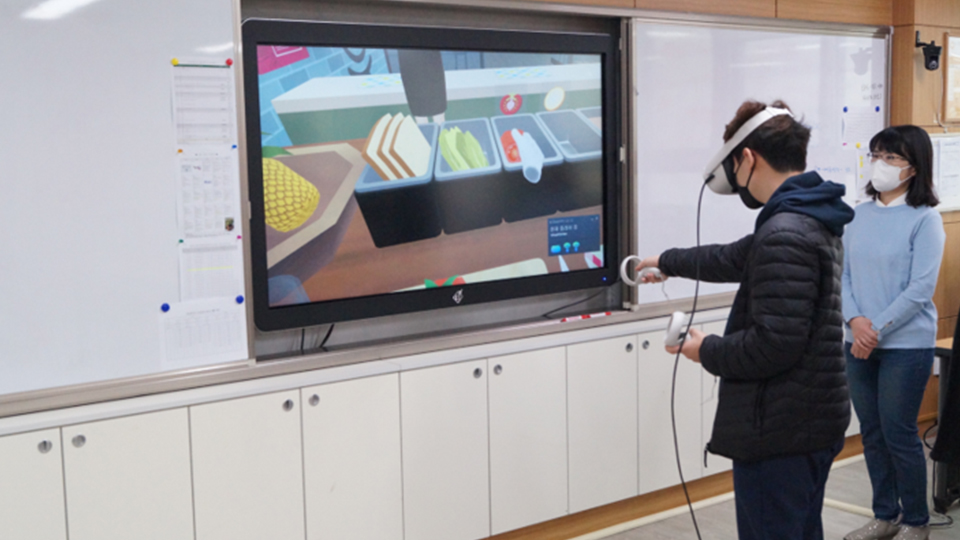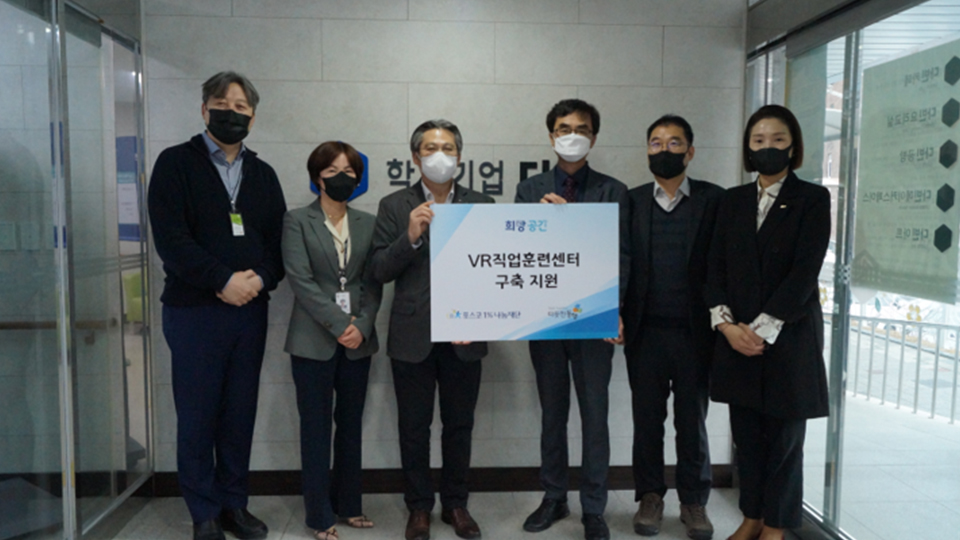 Objectives

To enhance essential skills needed in the workplace for people with developmental disabilities

Program

Establishment and operation of VR Career Training Centers in Pohang and Gwangyang intended to offer job training to people with developmental disabilities

Process

Selection of
candidate sites

Building the VR Career Training Center

Student
selection

Center
operation

Support

Four VR courses (e.g. barista, car wash, daily life, kitchen), fundamental job skills, on-site training, etc
Programs
eSports Center
Building eSports Center dedicated to people with disabilities to nurture professional-level players
Regardless of the fact that people with disabilities can flaunt their talent just as much as people without disabilities in eSports, they could not be trained due to the lack of eSports centers in the region. The new eSports centers will serve as the hub for training professional eSports players with disabilities
The eSports Center for People with Disabilities in Pohang and Gwangyang are equipped with 10 gaming PCs with which you can hold various eSports games and competitions, such as League of Legends and Battleground. The centers are barrier free, enabling people with disabilities to easily access the building using ramp slopes and handrails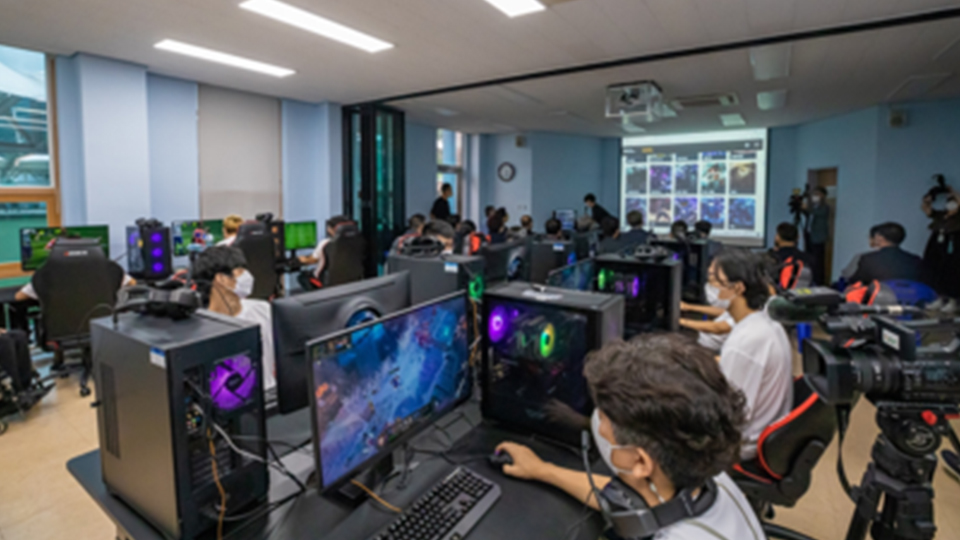 Objectives

To train eSports players with disabilities

Program

Supports the building of eSports infrastructure by building eSports centers in Pohang and Gwangyang

Process

Selection of
candidate sites

Building the
eSports center

Selection of local
eSports players with
disabilities

Center
operation

Support

Provision of support in building eSports Center for People with Disabilities (with 10 gaming PCs)